Travel Log.
10 day bike tour from Brule River State Forest to Prescott, WI. Drive up and drive back. Tuesday, July 27 – Friday, August 6.
Getting Started.
I rode up by car with a friend who stayed the night. Spent the next 10 days meandering down the St. Croix valley by bike. Had one zero day (no riding) and one motel stay (no camping.) Got a ride from Prescott, WI at the end of the trip. The map at the bottom of this post can be referenced to find the locations listed. Most of the campsites and landings can be found with a google search or by using these maps:
https://www.nps.gov/sacn/planyourvisit/maps.htm .
The GPS coordinates are approximate.
Tuesday July 27.
We stopped for lunch at Lakeview Bar + Grill in Shell Lake, WI.
First campsite: Bois Brule Campground Site #7. Beautiful site just a short hike down some stairs from the car. A red squirrel we named Erik was not afraid of us and trying to steal food.
Wednesday July 28.
The first day of riding started wet, and google was directing me to Sandmon Road and other gravel routes, so I had to backtrack to stay on pavement. It cleared up in the afternoon.
Stopped at Higgins Lakeview Lodge to fill up on water, and then at Franny K's Country Foods for a six of Leinie's. Both in Solon Springs.
Second campsite: Lucius Woods County Park, also #7.  Typical car camping site. Had a fire and watched most of Shutter Island.  My parents called because tornadoes were reported in St. Croix County.  They didn't realize how far north I was. 
Was able to shower in the morning.
Thursday, July 29.
Had a nice long stretch of 15 mph down Highway 53.
Stopped at ICO in Gordon, WI for a block of mozzarella.
Made lunch and had a swim at Gordon Dam.
Stopped at the Lookout Tavern for water and ice.
Third Campsite: Louise Park Landing.
I took a wrong turn getting down the valley, which was all gravel. Backtracked and was exhausted when I finally got to Louise Park. A large group had already taken over the boat launch area with tents, RVs and watercraft. I asked if there was room and they mentioned that there was at least one other campsite, but it looked like it was under construction. I went down the road a bit and saw a tent at the end of one path. I turned down past a fork where the road was all dirt, with huge tire tracks from heavy machinery. It ended at the river where there was a small patch of grass and a hastily constructed fire ring made of rocks that had burnt cans in it. I set up there for the night. I didn't have a fire and I went to bed early.
Friday July 30.
Got out of Louise ASAP because I didn't want to be around for any work crews that may show up. On the road by 8:00.
Made breakfast at the Dairyland Volunteer Fire Station.
Stopped at a church community center near Cozy Corner, WI for water and information. (I saw someone loading up a car.)
Had a swim at the WI-35 river crossing near Riverside landing. Initially just there for a quick rest, it seemed an ideal swim spot while I was filling up on water. The water was shallow pretty far out and there was a good breeze
Had a shopping spree in Danbury. Heet and rope at the BP, then mashed potatoes, an avocado, cheese curds, six of Summit Cabin Crusher and 200 of Maker's Mark at Wayne's Family Foods. Had lunch and filled up on ice at Wildwater Bar & Grill. They actually had a decent black bean burger. Used the wifi and charged my phone a bit.
Fourth campsite: Dispersed camping in St. Croix State Forest.
I entered the park at an ATV trail and didn't want to spend another hour riding to the campground. I took an overgrown trail to a small clearing (Camp Susan, 46.03251389881437, -92.43392510203684) and set up camp. Hung out till night when I took a hike and found an even larger clearing (Tickfield, 46.0312281580349, -92.43189698661696). Moved camp in the dark.
Saturday, July 31.
My plan was to stay an extra night, but I was low on water and was getting attacked by wood ticks. My shoes were absolutely soaked just from going down to Camp Susan where my food was still hung up. I waited for the dew to evaporate and moved on.
Crossing back into Wisconsin, I had a swim at Thayer's Landing, also filling up on water. I was there the night before and this is my second attempt at finding the campground which is supposed to be there. Again, I found nothing, and I assume there is a water-access-only site around there.
Aside from that, I did little stopping and was just dead set on finding a better campsite as quickly as possible. The day's ride was only about 15 miles.
Fifth campsite: "Rake's Landing" at Clam River Flowage, within Governor Knowles State Forest. (45.937819634549456, -92.52969055936573).
I went way up the road and down a foot trail to find a string of clearings with no fire rings and decided to make it work. I didn't have a permit (required but free) but it was the weekend and the offices were closed. No one was around. I found a shortcut to the road and troubled a neighbor for water, since I couldn't find an easy way to get down to the lake and the water looked pretty nasty. A little exploring revealed a waterside site with a makeshift but well-seasoned fire ring, picnic table and a yard rake with a birch branch for a handle. Had plenty of time to hang out and read maps, and there was plenty of fire wood to burn. Some pontoon fishermen were interested in how I accessed the site, as it seems to be a popular hangout. I'm not convinced that it is a "designated" site but it looked official enough for me to not be completely paranoid while staying there.
The site can be easily accessed by taking the trailhead (marked by a sign) just north of the river where County Road F crosses. When you follow the trail you come across a doughnut clearing, and if you keep going and keep to the left, the trail will stop at another doughnut clearing. Just through the trees there is a short and not-too-steep downhill path to the water where there is a picnic table and a fire ring.
Sunday, August 1.
Really needed to do at least 30 miles since I never got my zero day I was planning for. But I was well rested and it was a good ride. I stopped at Fox Landing for a swim and to filter some water. I parked my bike and walked it with idea of giving my biking muscles a rest and avoiding the gravel. This dude in a pickup was interested in my trip and then he gave me a ride back to my bike. When he dropped me, he offered to smoke me up, which I unfortunately had to decline.
Stopped at the Country Store in Grantsburg and got a full 750 of Maker's. (I didn't quite finish the 200 so I filled up as much as I could. I didn't want to pack the bottle so I gave the rest back in case someone else would drink it.) Also got 25% and 98% deet and a six of Leinie's Session Helles. Filled up on ice.
Riding County Highway 3 to River Road ended on gravel all the way to camp. It was relatively packed down and the terrain was mostly flat so it was OK.
Sixth Campsite: Old Railroad Bridge Landing. aka "The ORB."
Perfect campsite! Maybe 200 feet from the parking lot. Huge clearing, 3 sites with fire pits and picnic tables, good water access for swimming, beautiful cinematic view of the Wisconsin shoreline with owls and hawks swooping, pit toilet in the woods, lots of sticks to burn. Stayed two nights.
Monday August 2.
Zero day. Read my book, played music, burned wood, ate food and swam in the river.
Tuesday August 3.
Maybe it was the rest. This was a hard ride.
Made lunch in Sunrise, MN outside the closed tubing place.
Stopped in Almelund for an extended rest. Had chips and a coke, some coffee, bought string cheese and butter, got ice, used the wifi. Called ahead to Interstate Park to get a campsite.
Had a beer at the Goat Saloon in Taylors Falls.
Seventh campsite: Interstate State Park. Another typical car camping kinda place. My site was right in front of the shower building so I had two of those. My neighbor gave me a bunch of firewood that he brought from home. Went on a hike to the potholes in the morning.
Wednesday August 4.
Passed through the Franconia sculpture park.
Had a beer with cheese curds and coleslaw at the Brookside Tavern in Marine on St. Croix, my first stop on my first bike tour in 2012.
Pulling into western Stillwater, I encountered a lemonade stand. It was $1 and I tipped 100%. The kids (there were like 10 of them) were impressed with what I was doing.
No camp. Stayed at America's Best Value Inn. Went to Cub for a six of North Shore Lager and a 6′ USB. I wrote lyrics, ate Domino's, watched Netflix and took a shower. There was some argument outside my door about who was or wasn't doing drugs.
Thursday, August 5
Left the motel in drizzle but it cleared up soon. Had breakfast at the Main Diner on 95 in Stillwater.
Stopped in Afton for an affogato at Selma's Ice Cream.
I was feeling pretty sick pulling into camp. It hit me all of a sudden. I set up, had a shower and crashed out.
Eighth and last campsite: St Croix Bluffs Regional Park.
I woke up from my nap and the camp host were wondering where I was and surprised that i was coming out of such a tiny tent. I felt better but still a little off. I forced myself to eat full dinner and only drank one beer. I went to bed early as a storm was coming in and finished Shutter Island in the tent.
Friday August 6.
Took my time in the morning. Had to wipe everything down because the storm had hail and it kicked up dirt everywhere.
Stopped at Carpenter Nature Center for photos and met Korpii the raven. He paced around with a plastic egg in his beak.
Stopped at Point Douglas Park to rest for a sec and then finally crossed over into Prescott. Hung out and had lemonade while waiting for my friend to show up, then we had lunch and drinks, after which we drove back home.
Maybe you noticed my mascot? This is Red. I'll give him a proper introduction someday.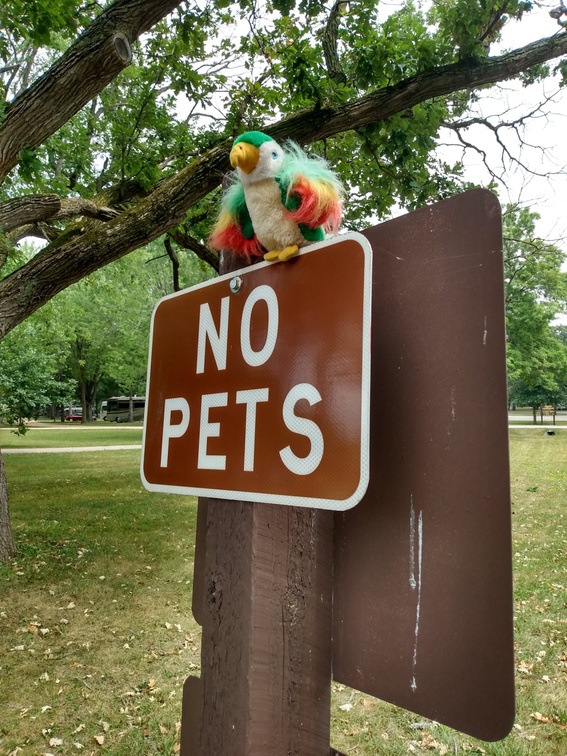 Full Gallery: https://geraldprokop.com/photos/index.php?/category/9
My reconstruction of the route I took:
Unpacking video I made the next day:
When it's ready, I'll post the results of the tour's music project here.