I made up a word and I don't care if there's a better word for it. What is a Minneride?
It's not a bicycle tour. There's only one stop.
It's more than a bike ride because you spend more time resting than riding.
And it's more than a camping trip, because how you get there is just as important as where you go, maybe more so.
A Minneride is just what I call a short, weekend bike trip. Start at home (which, for me is in Minnesota. Get it?), early Friday morning, and spend the day riding to a nearby camping destination. Arrive in the evening, set up camp and hang out all weekend. Leave early Sunday, or maybe early Monday, and ride back home.
My Minneride destinations so far have been Carver Park Reserve, Baker Park Reserve, William O'Brien State Park, and Cleary Lake Regional Park. I started doing this when I wanted to volunteer for the parks through the Master Naturalist program, but sadly, the logistics of carfree, ecological volunteerism are very cumbersome and I was struggling with a lot of stress-related disorders.
The last one, pictured below, was in September of 2021 on my birthday weekend, at William O'Brien, and which I turned into my first solo psilocybin retreat. I learned how to speak blue jay, I heard the sound of leaves sparkling, and I got stumped by a pin oak (no pun intended.)
I also spent three hours riding in drizzle, watched a movie, and set up camp while snacking on take-out bar food from the nearby Brookside Bar and Grill.
This year, I want to hit Carver multiple times. You don't need a new destination every time. Sometimes it's just about the easiest way to get away, and Carver has a bike-in site that is non-reservable, meaning you don't have to plan your trip months in advance.
Doing long, multi-day trips is fun, but I'm all toured out close to home. I want to tour Lake Michigan and Montana soon, but not this year. Minnerides will suffice.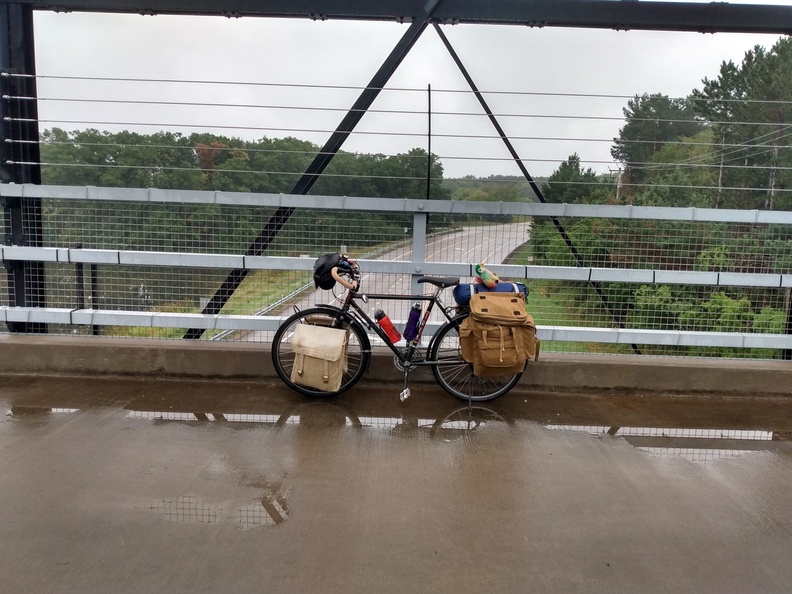 Gallery Link: https://geraldprokop.com/photos/index.php?/category/6.
(This trip was posted on Facebook in September 2021 and shared here for posterity)